2017 HOUSE-A-FAMILY-CHALLENGE
February 21, 2017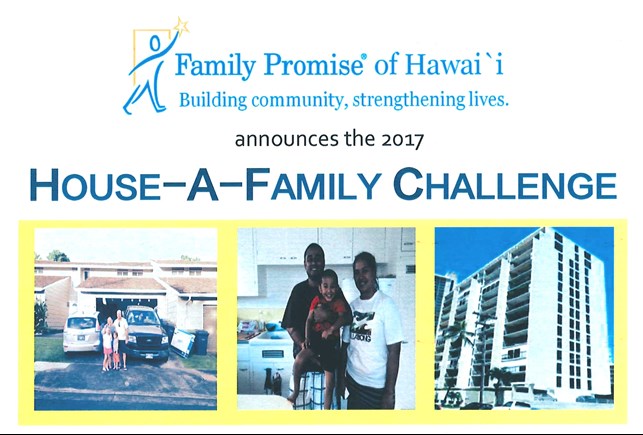 HELP us find 50 homes for 50 families this year
Every child deserves a home. Yet we all know homelessness continues to plague our islands. There are simply not enough affordable rentals and our families compete with those earning much higher incomes. Many landlords require tenants to have credit scores of 650 or higher and earn income three times the rent amount. Even with two full-time working parents, many of our families do not meet these requirements. We see too many struggle to find homes. Our network of 1,500 Family Promise volunteers continues to host families and provide meals and support when they need it most. What if we could all take one more step to ensure our families find permanent homes?
We are excited to announce our new campaign - the House-a-Family Challenge. This fun-spirited "competition" relies on our resourceful volunteers to help us find more affordable rentals in our communities. Family Promise volunteers have rented apartments to families in the past, and many of you have friends or family members with rental properties. The House-a-Family Challenge asks all of you to reach out to your networks. We challenge each of our host and support sites to find ONE rental for a family. Together, we can find homes for dozens of children and their parents.
Our ask is simple. We thank you for connecting landlords you know to our Family Promise team. Your introduction and good word can go a long way in influencing landlords or rental managers to give families in our program a chance. Family Promise staff will take it from there, following up on your introduction and using our experience to assist the family with every step of the application process. We'll help prepare the families for success, but YOU could be the reason more children find a place to call home!
This challenge began on February 15, 2017. Each site or community group that secures a rental will be acknowledged in our newsletter with a picture and/or short story about the family who found a home.
Please contact Christy MacPherson, Housing Specialist with questions, ideas, and your rental connections! Call (808) 548-7478 or email christy@familypromisehawaii.org.


Frequently Asked Questions


What is the size and price range of the rentals you are seeking?

Studios
1 bedroom and 2 bedrooms between $1,000 - $1,500



What kind of families would we be seeking housing for?

All of the families in our program have children, work full-time, do not use any drugs or alcohol, and do not have untreated mental illness.
All families practice budgeting skills for the entire duration of their participation in our program and are required to turn in pay stubs and bank balances every two weeks and follow their budget.
All families receive financial literacy and "Hot to be a Good Tenant" training.



How can we reassure landlords that there will be some help with tenants if things go poorly?

Family Promise staff follows up with families who move into housing for up to a year following their exit from our program.
If any problems arise, staff will do the very best they can to help remedy the situation and provide support to the landlord.



Does Family Promise provide assistance with rent or deposits?

We do provide some kind of rental assistance to families when they move into their homes. We provide the first month's rent in most cases.
Some families also qualify for a permanent rental subsidy whereby they pay for a portion of the rent and the program pays for the remainder.



Does Family Promise pay for back-rent if a family is unable to pay?

We do not pay for back-rent, but over 80% of our families have never returned to homelessness because of the financial stability they gain and the skills they learn while in our program.
We can refer families to other programs to help with back-rent when the funds are available.


Download
House-a-Family Challenge Flyer
The House-a-Family Challenge Details
Family Promise Housing Drive FAQ